Meet Dr. Hans Freericks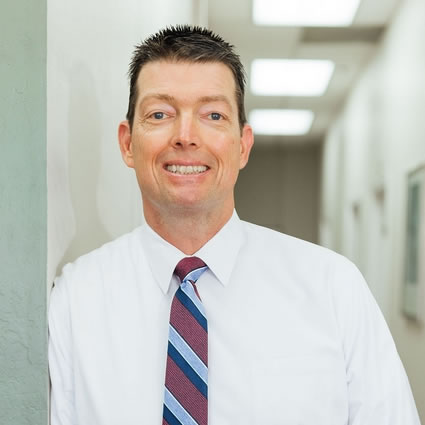 Dr. Hans Freericks began his journey as an injury prone young man that spent years going in and out of medical offices for broken bones and sprains. Then while working his way through college at UPS he hurt his back. To avoid surgery and out of desperation he went to a chiropractor. Chiropractic worked so well he changed his course of study and became a chiropractor.
Education and Expertise
Dr. Hans completed his pre-chiropractic education at San Jose State University before moving on to Palmer College of Chiropractic West. He graduated in 1995 with his Doctor of Chiropractic degree and went to work for his first chiropractor and mentor. Then in 1996 he opened Discover Chiropractic in Fremont.
When he first started out in practice, Dr. Hans learned Gonstead adjusting techniques and believes that there is no better tool to finding the source of a problem than a skilled pair of hands. He offers his patients the quick and effective treatment found from chiropractic care without spending hours of time on machines or physical therapy. Dr. Hans has extensive post-graduate education and training (well over 1000 hours) in Chiropractic corrective care, x-ray analysis, patient care management and Gonstead Technique.
Dr. Hans has now built five successful chiropractic offices, and to share his skills with others, joined New Beginnings Chiropractic and Life Management as a consultant in 2008. He states, "It's very rewarding to teach someone and help them accomplish what they could not do on their own."
BECOME A NEW PATIENT

Outside of the Office
Dr. Hans and his wife Sharon have two beautiful daughters. In his free time, he enjoys camping, boating, teaching his girls to play basketball and soccer, and vacationing with his family.
We'd welcome the opportunity to help you make the changes you desire in your life. Call us today to schedule your time with us!
---
Dr. Hans Freericks | (510) 247-1272